St Jude Radiothon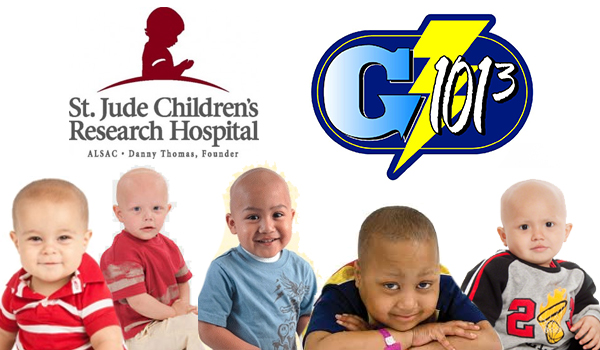 Last year we raised over $23,000!
We are again devoting two full days of broadcasting to tell you about the amazing research done at St. Jude. You can donate now!
We shared many patient stories, some that tell of ongoing treatment, some of cures, and, sometimes, tragic loss. Most importantly, we will share with you the most important component of treatment at St. Jude...HOPE.
Since opening 50 years ago, St. Jude Children's Research Hospital has changed the way the world treats childhood cancer and other life-threatening diseases.
No family ever pays St. Jude for the care their child receives and, for every child treated at St. Jude, thousands more have been saved worldwide through St. Jude discoveries. The hospital has played a pivotal role in pushing U.S. pediatric cancer survival rates from 20 to 80 percent overall, and is the first and only National Cancer Institute-designated Comprehensive Cancer Center devoted to children. It is also a leader in the research and treatment of blood disorders and infectious diseases in children.
During our radiothon, we will ask you to become a "Partner In Hope". This means, you will provide a small monthly donation to St. Jude to help fund everything they do to improve the lives of children around the world. Remember, when treatment is finished at St. Jude, there is no charge to the family. The entire research center, hospital, and living areas rely solely on donations from people just like you. For those of you that participated last year, thank you very much for your continued support.
Please take a moment to visit the St. Jude website. We trust you will find all of the information you need to join us in supporting this very worthy cause.
Support that mission by joining us at G1013 with our St. Jude Radiothon. Every single gift or monthly partnership can help save a child's life. Click here to help.