valentine's day YOUR way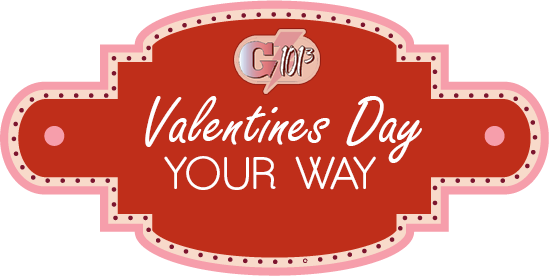 Remember when you had to sit by the phone hoping someone would call you up and ask you out for Valentine's Day?
Well, thanks to G1013, Lemon's Florist, and G&S Jewelers those days are over!
This year, we're giving you the Valentine's Day you've always wanted. Now, someone else will be lucky to get a phone call from YOU.
If you're ready to win the Valentine's Day you always wished someone else would give you, here's all you have to do:
Listen everyday between now and Valentine's Day. Rick Duncan, Dave Snow, and Scott Epic will be opening up "Cupid's Window". Once they do, just call 939.1013 to get registered. You can register as many times as you can get through! The only catch is, you'll never know when "Cupid's Window" will open. So make sure to listen A LOT! The more you get in, the better your chance of winning!
We will collect all registrations until Valentine's Day. Then, be sure to listen to Scott Epic during the ride home on February 14th as he draws for the grand prize.
If you are the lucky winner, you'll be heading out on a Valentine's Day to remember.
You will start your evening when a limousine from Oxford Limo shows up at your door. Once you get in, you'll find beautiful roses from Lemon's Florist, and fine chocolates from Olympian Candies. Your first stop will be G&S Jewelers, where you will pick up your brand new diamond and gold heart pendant. Your driver will then whisk you away to a private dinner at your own cafe. After that, your limo will take you to a private theater where you can watch your favorite romantic movie. That's right, you'll have an entire theater all to yourself! Once your movie is over, you'll be taken to the Holiday Inn where you will check into your Jacuzzi suite for the night.
It's all brought to you by Lemon's Florist, G&S Jewelers, Olympian Candies, Bob's Hometown Deli, and the radio station that still believes in romance, we're G1013.